John Oklahoma County 66
Arcadia OK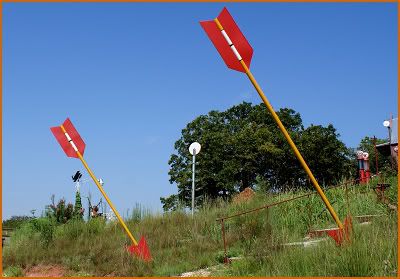 It's the creative product of John Hargrove, a former airplane and school bus mechanic. John grew up just off of NW 23rd St (Route 66) in Oklahoma City, and was always fascinated by the "Mother Road".
What John is doing is building replicas of classic roadside imagery, most of them found along Route 66, and scattering them around his property. He's got his own versions of the giant
Twin Arrows
and a
big jackrabbit
, a
Wigwam motel
room and a big kachina doll, a fake
Meramec Caverns
barn roof and a Volkswagen Beetle buried nose down in the earth (John's homage to Texas's
Cadillac Ranch
). He built a pond to hold a replica Blue Whale, but the water leaked out.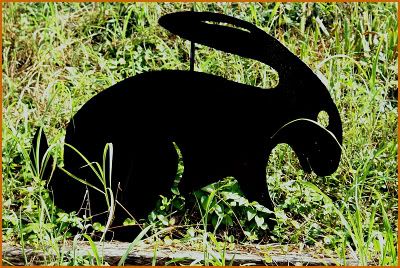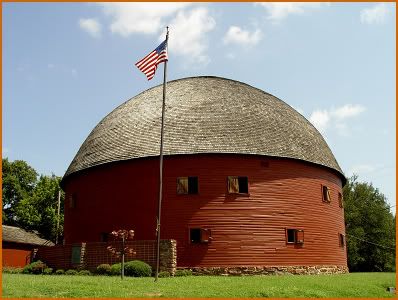 The Arcadia "Round Barn" really is quite the sight to see. Located on Route 66 in the heart of Arcadia, The Round Barn is one of our nation's unique landmarks. Built in 1898, it originally served of course, as a home for livestock and also as a place where dances were held for the local townspeople. As traffic slowly declined down Old Route 66, the town of Arcadia declined with it and after suffering decades of neglect, in 1988 the barn's immense 60′ diameter roof finally collapsed. The cost of repair: a staggering $165,000 dollars.
Knowing it would be no small feat, Luther "Luke" Robison (a retired building contractor) had long admired the Round Barn and decided that he would save it from utter ruin. He and the Over the Hill Gang, (a group of retirees) volunteered their time, money and skill to the task. Together, they were able to restore the barn over a period of four years for only $65,000 dollars! By recruiting lots of volunteers, selling inscribed commemorative bricks, setting up a roadside donation box and accepting donations of equipment and labor, the enormous undertaking was accomplished.
POPS is the newest, coolest Landmark on Historic Route 66. It's the effervescent essence of the mother road: colorful, free-wheeling FUN!
Located in beautiful Arcadia, Oklahoma, POPS is a must-see destination, attraction and all-around fab phenom. It starts with a 66-foot soda pop bottle that makes POPS an instant icon. At its base is an ultra-modern gas station, restaurant, shake shop, gift shop and convenience store.
Quote from:
Route 66 University
"Ann's Chicken Fry House" started life on Route 66 in 1948 as a Cities Service gas station. It operated as such along the Mother Road until 1966 when it was transformed into a restaurant called "Three Bulls Steak House." In 1971 when Al Burchett returned home from Vietnam he was looking for something to do. He became a partner with his brother and they purchased the Three Bulls Steak House.
They needed another name though and couldn't decide on one. With a stroke of inspiration they put all of their names, including their wives, in a hat and relied on pure luck. Ann, Al's brother's wife was drawn – and Ann's it became! The food at Ann's Chicken House is original, tasty, and always fresh! I had my first fried peaches, a delicacy I was a little leery of trying, but one bite convinced me that this was pure heaven. The food is fantastic. For fried green tomatoes, fried olives with cheese, and of course the best Chicken Fried Steak in the world you have got to stop by Ann's Chicken Fry House.
Quote from:
The Road Wanderer
The Lake Overholser Bridge in Oklahoma City is a proud reminder of Route 66. During the early 1920s, automobiles were replacing horses and buggies on Oklahoma roads which, at that time, were not part of an organized system but were instead an assortment of poorly maintained lanes connecting rural villages to county seats. Navigating from one part of Oklahoma to another was not always easy. The development of a State highway system and the coming of Route 66 changed all that.
Quote from:
National Park Service
The old Yukon Flour Mill rises above the town and once was a major landmark in this part of Route 66 country. At night the beautiful neon can be seen for miles around.
Quote from:
The Road Wanderer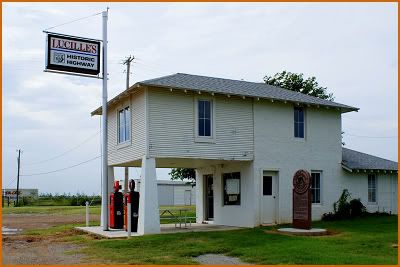 Known as the Mother of the Mother Road, Lucille Hamons and her husband operated a gas station along Route 66 from 1941 until her death in 2000. The "service station" was originally constructed in 1927, but over time was expanded to include space to sell souvenirs and a loft for weary travelers to spend the night. Lucille's souvenir shop offered a place to stop and talk as people journeyed along Route 66. Many of the people Lucille met became subjects of articles that she wrote for the local paper. The little gas station still serves as a little outpost of hospitality amidst the vast stretch of road.
A new location of Lucille's exists in Weatherford.
Quote from:
Oklahoma Scenic Byways
Lucille's Roadhouse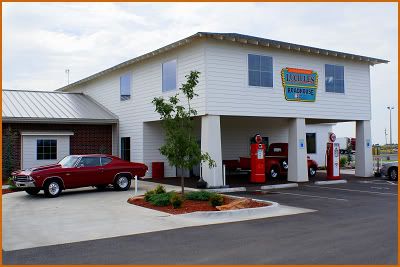 "Lucille's Roadhouse" is unique in that the traveler can see and experience an original roadhouse and diner as it was in the heyday of diners along Route 66.
Quote from:
America's Byways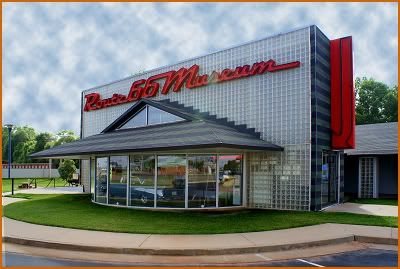 The Oklahoma "Route 66 Museum" is operated by The Oklahoma Historical Society, a state agency. The museum was originally opened to the public in 1968 as the Museum of the Western Trails, operated by the Oklahoma Industrial Trust and Recreation Department (which later became the Oklahoma Department of Tourism and Recreation). In 1991 the museum was transferred to OHS. In 1993 plans began for a redevelopment of the museum in order to focus on transportation and Route 66. The project was funded with federal, state and private funds, with the citizens of Clinton (population approximately 10,000) raising over $200,000.00.
The museum officially opened on September 23, 1995, as the Oklahoma Route 66 Museum with a grand opening celebration in Clinton including car shows, free live entertainment, a rock'n roll dance and many other activities.
Quote from:
Route 66 Museum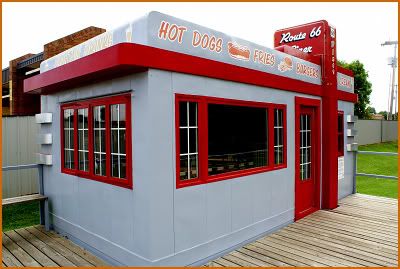 This "Valentine Diner" opened in 1956 as the Porter House Cafe in Shamrock,Texas. The owners, M.L. and Alta Porter, ran it until 1964, then moved it to their backyard, where it sat for 30+ years. The Route 66 Museum in Clinton, OK. acquired it in 2002, restored it with all of its original furnishings, and placed it on the museum grounds.
Quote from:
Independent Diners on Waymarking.com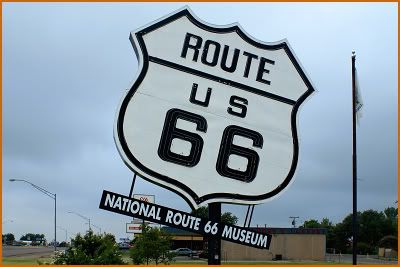 The "National Route 66 Museum" celebrates Route 66, not only in Oklahoma, but all eight Route 66 states. The museum focuses on the people who lived, worked and traveled the Mother Road and offers the road wanderer a walk through all eight states. The realistic murals and exhibits feature vintage automobiles and antiques from the hey-day of Route 66.
Quote from:
The Road Wanderer
Texola was born in 1901 and sits near the 100th Meridian. For this reason, the town has been surveyed eight different times over the years, so many of its residents have lived in both Oklahoma and Texas over the years, without ever having moved. In its earliest days, the people of the town had a hard time figuring out what to call it, changing the name from Texokla, to Texoma, and Texola. Finally, a town election chose its permanent name.
Though Texola is clearly a ghost town, as evidenced by its lack of business and abandoned buildings, there are still a few residents left here, as well as a church and a bar on the western edge of town that boldly makes the statement on the side of its building, "There's no other place like this place anywhere near this place so this must be the place."
Be sure to check out the Old Territorial Jail built in 1910, which continues to stand one block north of Route 66, before heading to the staked plains of the Texas Panhandle.
Quote from:
Legends of America